Are you visiting Scotland and want to see some of the best historic sites as well as incredible hidden gems or are you researching your genealogy and want help to walk in the footsteps of your ancestors?
Ensuring that we provide a high quality service to guests visiting Scotland is something that is very important to Solway Tours and why we entered into the Visit Scotland Quality Assurance Scheme back in 2015.  We were delighted to have recently received five star status again for a second year in a row for our guided historic and ancestral tours of Scotland.
What are Solway Tours unique selling points?
Both Lesley and Mark of Solway Tours were born and raised in Dumfries and Galloway.   After both studying history at university they entered into a career in teaching history both finishing teaching In senior management positions.  Lesley gained her history degree at Stirling University where her passion for Scottish medieval history was fuelled by studying in the lands where William Wallace had so bravely fought for Scotland's Independence in 1297.  Mark studied history and politics at Glasgow University and has become very fond of the historic city and the industrial impact that it has had on Scotland's history.  We are both passionate about the history of Scotland and sharing it with others.  As former teachers,  delivery of the history of Scotland comes naturally to us and where better to do that than standing on the battlesite or castle where the actual event took place.  As teachers we both promoted the use of the outdoor classroom and now as the owners and guides of Solway Tours we help others to explore the history of Scotland and bring it to life.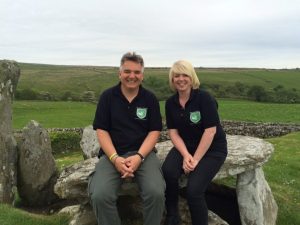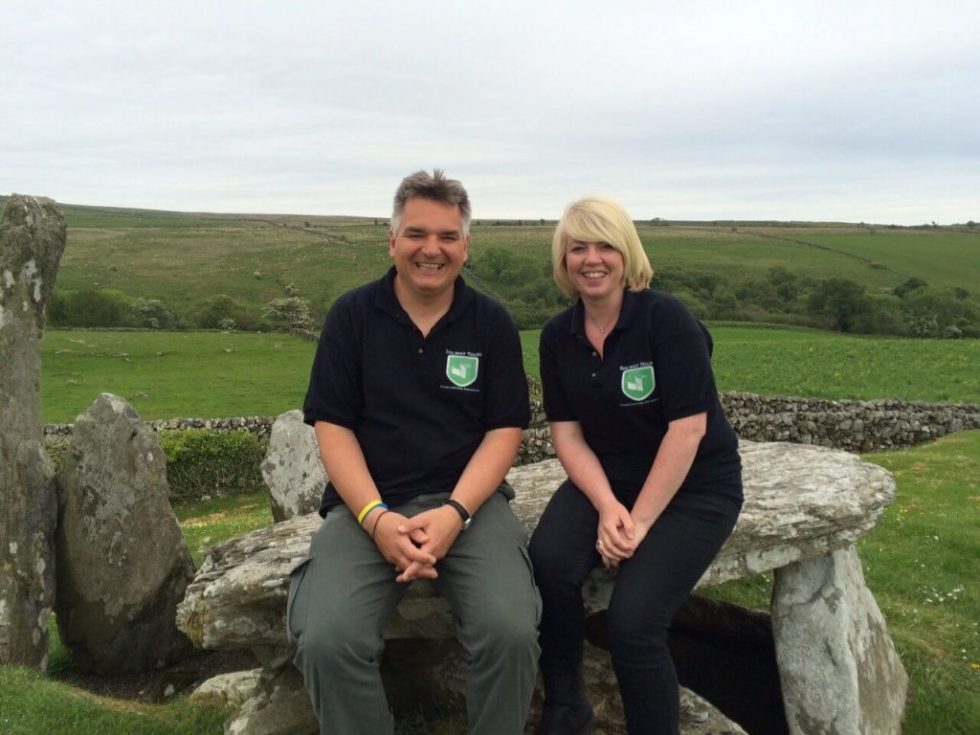 Passionate about the hidden historic gems and taking guests off the beaten track
There are so many fantastic historic sites in Dumfries and Galloway and across Scotland.  We offer bespoke guided historic and ancestral tours and we are never stuck for ideas on where to take people.  We run our tours from our seven seater car therefore we always have the opportunity to go off the beaten track if desired and we pride ourselves on taking groups to some of the less well known sites across Scotland.  The picture below is Crichope Linn which is one of our favourite hidden gems within Dumfries and Galloway.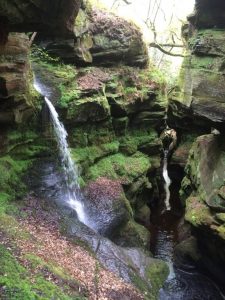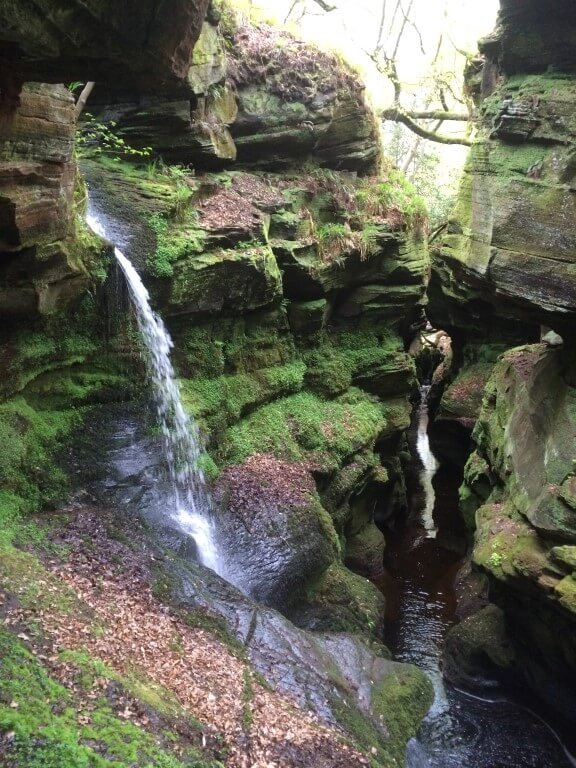 Personalised tours with pick up from any location
All of  the tours we run are personalised to fit our guests needs and we ensure that they make the most of their time here in Scotland.  We offer a door to door service so can pick up guests from any hotel, airport, train station or even Cruise Terminal.  We have had a number of guests this year that we have collected from Greenock Cruise Terminal.  The picture below shows one family who were docked at Greenock for a day.  They had ancestral roots in Dumfries and Galloway and we collected them as the ship docked, got them to many sites in Dumfries and Galloway connected to their ancestors and had them back at the ship by 5pm!  The bespoke nature of our tours allows us to have the flexibility to build an itinerary suited to each group so we can really ensure that people get to places that have maybe been on their bucket list for a while!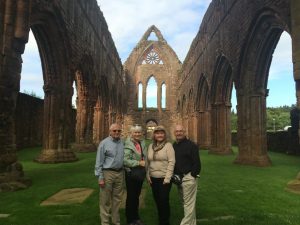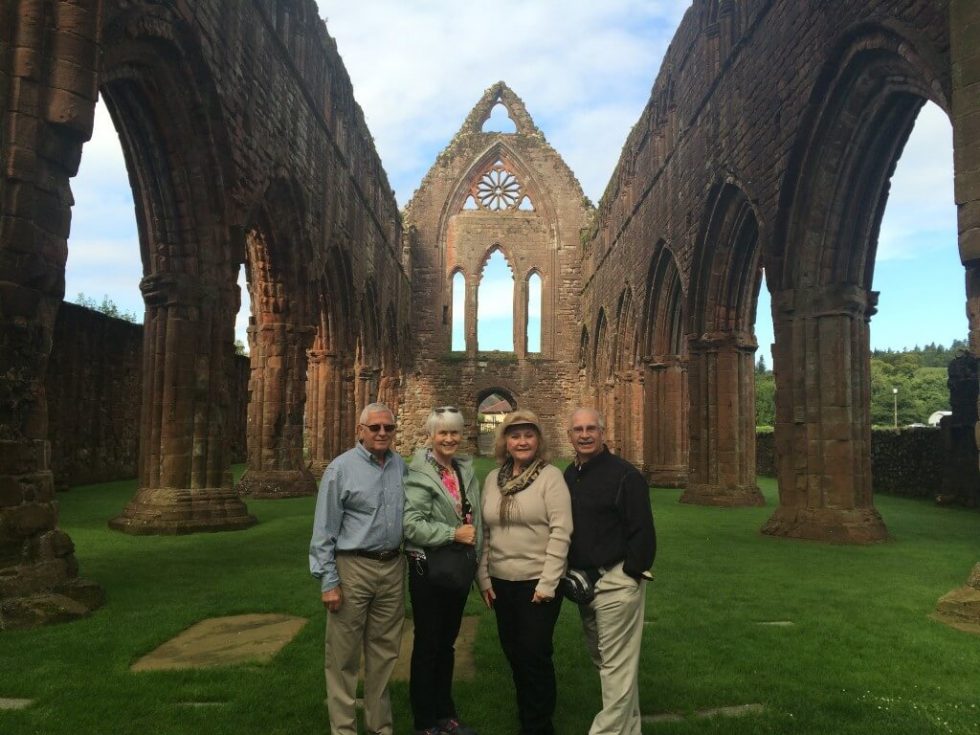 Customer experience at the heart of everything we do!
We love promoting the history of Scotland and taking guests to fantastic sites.  We realise for some guests this will possibly be their only time in Scotland so we understand how important it is to ensure that this once in a lifetime trip is everything that they want it to be.  We also understand that tracing your family roots can be a very emotional trip and we pride ourselves on ensuring that we complete all research and allow people to walk in the footsteps of their ancestors.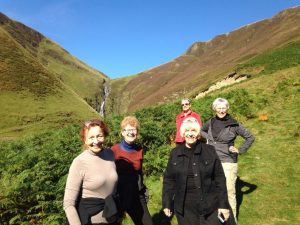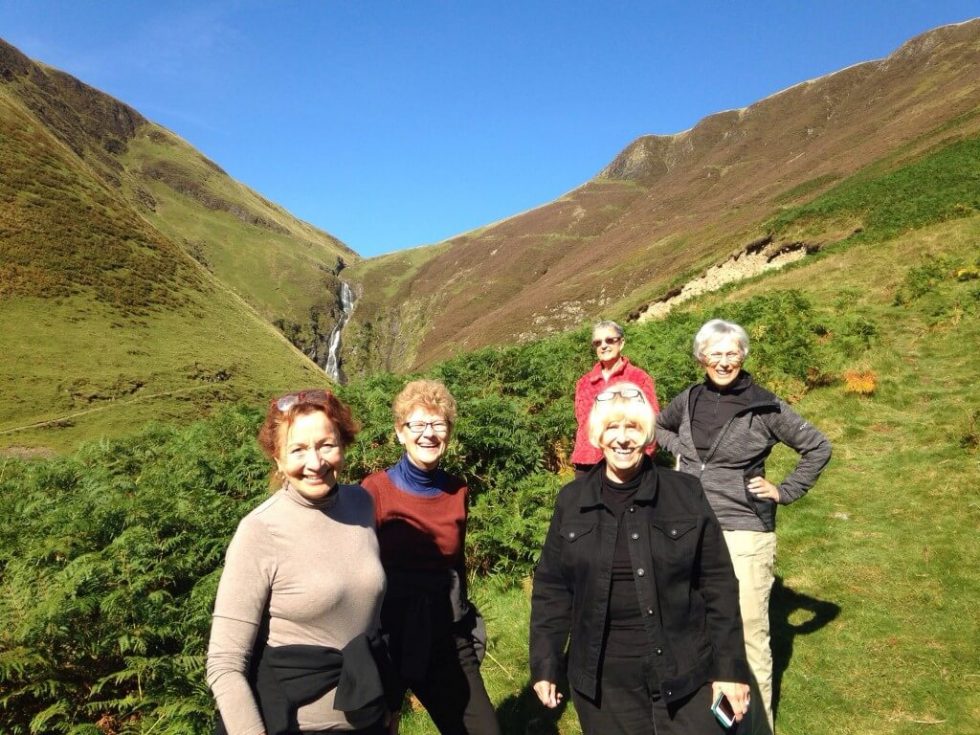 What our guests have said about us!
We have been delighted with the positive feedback we have received from guests who have toured with us.  Below is just a few of the wonderful comments that we are delighted to have received.
"A tour with these guys will leave you with lasting memories. Worth every penny"
"Mark & Lesley are very professional, extremely knowledgeable and most personable.
I would definitely book another tour with them and highly recommend them to anyone"
"It's clear that they both love the story of their homeland, and their contagious exuberance passed to each of us as we walked in the steps of our forefathers."
"Nothing is too much trouble for Mark and Lesley and the attention to detail is top notch"
"The trip was highly educational, inspiring, deeply moving and fun. Mark and Lesley really know their stuff and if they don't know some tricky question then they find the answer out very promptly. It's obvious that they are passionate historians but they also bring history to life with personal stories, experiences and by adding to your own interests in a way that leaves a very real impression. This was an incredible trip and one I would repeat again in a minute. I honestly can't recommend this company enough"
"The trip was planned to see where our family had come from, but was made so much better by Lesley and Mark's research. It was far, far better than I expected in my wildest dreams! It was one of the best experiences of my life. I couldn't recommend them more highly"
"Lesley and Mark will take you back in time to when doing the right thing was the first level of customer service. They ask lots of questions, they do tons of research, they are well educated both former history teachers, and use those skills to ensure you obtain the vacation of a life time"
"Solway Tours – setting the new standard for bespoke tours in Scotland"
All of these quotes come from our Trip Advisor Reviews which can be found at:
https://www.tripadvisor.co.uk/Attraction_Review-g186513-d8421515-Reviews-or20-Solway_Tours-Dumfries_Dumfries_and_Galloway_Scotland.html#REVIEWS
If  you are visiting Scotland and wanting to ensure you see some of the best historic sites and hidden gems or you are tracing your family history and you would like us to help out then please get in touch at beinspired@solwaytours.co.uk