1. Passionate Historians
We have always had a very keen interest in the history of the First World War, having both taught the horrors and impact of the conflict  in a number of Scottish Schools.  We clearly witnessed  the impact that visiting these emotive sites can have on young people and dried the eyes of many as they stood on the battlefields of Picardy and Flanders.   Being able to walk on the actual sites where the soldiers once fought, walk through real trench & tunnel systems and see the resting place of so many brave men and women is a memory that stays with people forever.  We  are extremely proud to have given the opportunity for so many to visit the Battlefields of WW1 already and hope to continue this in the future.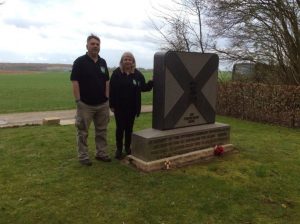 2. O

rganised and lead many WW1 Battlefields tours in the past

We are both former history teachers and have organised over 30 WW1 Battlefields Tours between them.  The majority of the tours we have taken have been with young adults however in April of this year we organised and led our first WW1 Battlefields Tour with a group of adults.  The feedback received after the trip was extremely positive.  People really enjoyed being guided by two passionate historians who had planned a route and visits that would allow people to not only visit some of the key battlefield sites but also to visit some WW1 trenches, tunnels and Talbot House where the soldiers went for rest and recuperation.  If you are looking to visit the WW1 Battlefields and would like to be guided by two experienced historians then please get  touch!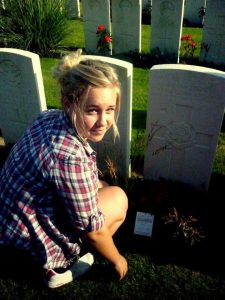 3. 5 Star Tour Company
We were delighted to have received a five start rating from Visit Scotland within our first six months of trading and on our very first grading visit.  As the only 5 star tour operator in Southern Scotland we believe that on all of our tours including our battlefields tour we provide excellent  value for money and a memorable trip.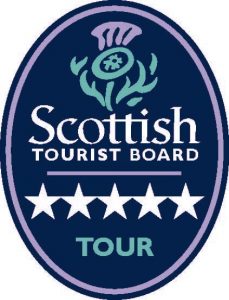 4. A

ncestral Research

We were delighted to have recently received the Ancestral Welcome Award from Visit Scotland.  As historians we are passionate about helping others to walk in the footsteps of their ancestors.  If you have any relatives who fought in the First World War then we will carry out research prior to the Battlefields Tour and we will ensure that is possible you get to visit the resting place of your relative and some of the key sites where they may have fought.  Prior to any battlefields tour we ask guests for any information they may have on family members who may have fought in the First World War and we carry out detailed research.  For our most recent tour we had a number within the group whose relatives had been in the Black Watch Regiment.  After visiting the Black Watch Museum and spending time with the researchers there we were able to take guests to where their relatives once fought and where some are now buried.  The detailed research that we carry out for guests is included as part of our tour price. We do carry out research on soldiers and nurses who fought and survived and during our last trip we had a particular emotional  visit to Vimy Ridge with one guest whose grandfather had been gassed there but had returned home.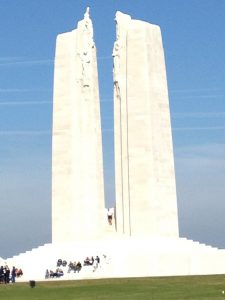 5.Centenary of the Battle of the Somme
There is no better time to go and pay your respects to those who paid the ultimate sacrifice.  Throughout 2016 people will be commemorating 100 years since the Battle of the Somme which has become known as one of the British Armies biggest military defeats.  Throughout 2016 there are a huge number of commemorative events that will remember the sacrifice made by those who fought at the Battle of the Somme.  We will also pay our respects to those who lost their life during the Battle of the Somme during our Tour in September.  We will visit key battlefields sites on the Somme including Lochnager Crater, Newfoundland Park, Thiepval and Albert.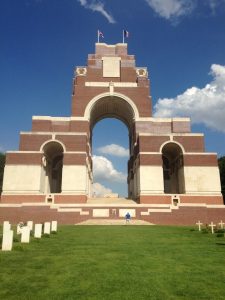 To read more about our upcoming WW1 Battlefields Tour from the 7th-11th September 2016 then please click on the link below:
www.solwaytours.co.uk/tour/world-war-one-battlefields-tour/
If you are interested in finding out more about our upcoming WW1 Battlefields Tour in September 2016 then please get in touch at beinspired@solwaytours.co.uk or contact us on  01387 449104.
Thanks Lesley and Mark